Hi
I would like some feed back please on my horses feet.
Firstly I will apologise now if this does not make a lot of sense, typing on my phone so bare with
Bit of background first - he's been unshod now for a year I'd say, was shod up to then and always has been since he was 4.
Hoof quality has always been ok, well no splitting and kept his shoes on well, no heat of footyness after shoeing, so no issues shall we say.
Due to his spavin and the fact that he was doing less work I decided to try him without shoes, plus through summer and winter I was doing more with my other horse, seemed pointless having him shod to be fair, so an experiment really as well.
Brought back into work this sumner, (hacking only, walking mostly with the odd trot) all road work but kept him of stony gritty gound until his feet coped better, to be fair he's always been ok on rutty hard grass type surface and smooth grittless roads when the shoes came off, so that was good but obviously felt it over stony/gritty ground which I never rode on, last month or so he's now coping with track type ground (odd grit etc) and he seems a little more springy in trot than he used to be in shoes, he seems to feel better to ride, less choppy short stride, he's not naturally a big moving horse with a long length of stride anyway but as far as his own paces go I think there seems to be an improvement.
We have a gritty/slightly stony yard so when he's led in and out to the field he's having to go over different ground, which he's now doing well over which is a good improvement apart from when he's had a fresh trim, I expect this until his feet have really adjusted, but after a week or two he's fine again. But absolutely fine on the roads even after a fresh trim.
I don't and will not do too much road work when he's had a fresh trim, basically go with how he feels and use a bit of common sense.
So, so far Im pleased with how he's doing and coping taking into account the time it takes for the hoof to harden up and how much road work I do.
Farrier said his feet had grown quickly since his last trim which was 7 weeks ago, which was a good and he is very happy with his hoof quality, said he's got good feet despite the dry weather and him going with out shoes and ground etc.
I would however like to know more about what you think to his hoof angles and basically how they are being trimmed, if I need to make any changes, perhaps I'm blind and thinking there ok but perhaps there not... just some feed back really, I always discuss things with my farrier and he does take on my views and explains things, so any negative criticism won't be taken negatively, it will be taken in a positive way to improve his feet going forward with my farrier first.
Sorry I should of mentioned that he's on restrictive grazing for 12 hours, decent for the other remaining time, he has a mixture of herbs and spices in his all round supplement which includes seaweed, nettle, biotin plus magnesium and camomile diet chop (which is just given to mix his suppleness in with) plus cider vinegar and a joint supp.
Sorry this is long!
Right onto some quick pics I took, perhaps there not clear enought to not taken well enough but I think you will get the general idea if his feet are horrendous!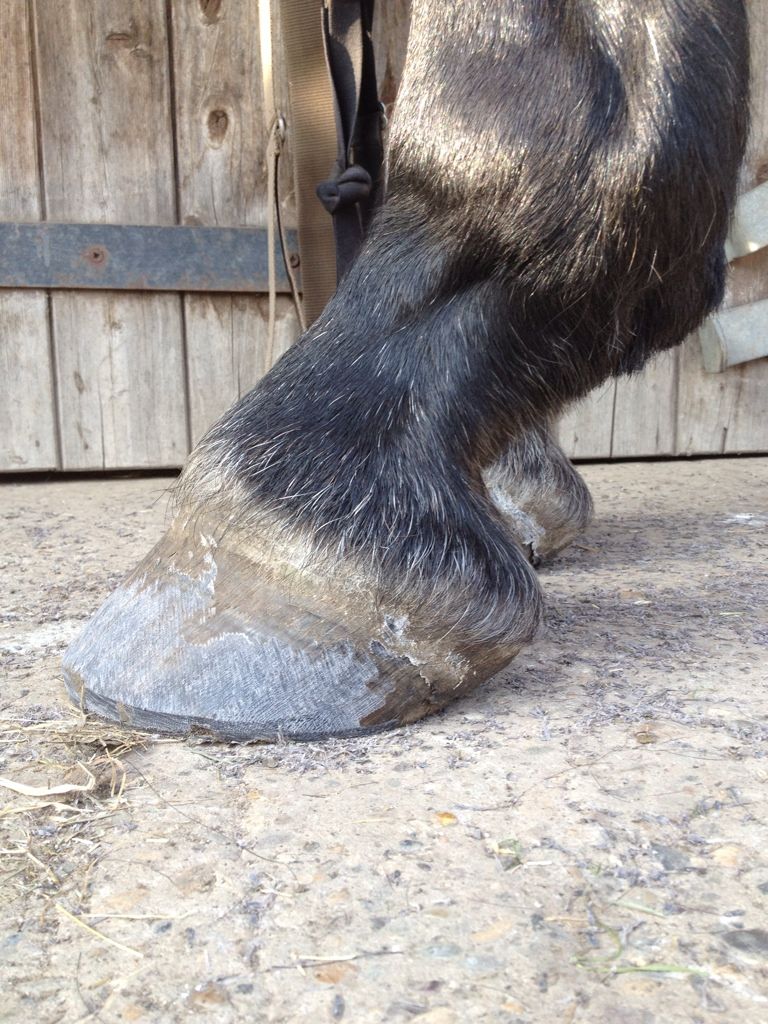 Excuse the poo in the background.
Won't let me post more than too on the same page so I'll put some more further down ....bare with
He