So this weekend we were off to another event, our second and probably our last event of the season! Again we were in the Sportsman B class, or the amateur PN class to you lot
It is a very nice class to be in, as everyone is very friendly and helpful and creates a lovely atmosphere.
Event was on lovely old turf and was a big, old fashioned type galloping course so definitely looking forward to it!
So dressage was a nice late start at 10.30am, and was test 102 again which was nicer to ride the second time round! But with the heat and perhaps overcooking the warm up slightly he felt a bit heavy and on the forehand for quite a lot of the test, however the canter was more active and had a wasn't as flat as last time. So pleased enough with 27, just me letting him get onto his forehand stopping us from getting any lower! But this left us 2nd after dressage.
Some pics! Video is coming, taking ages to upload!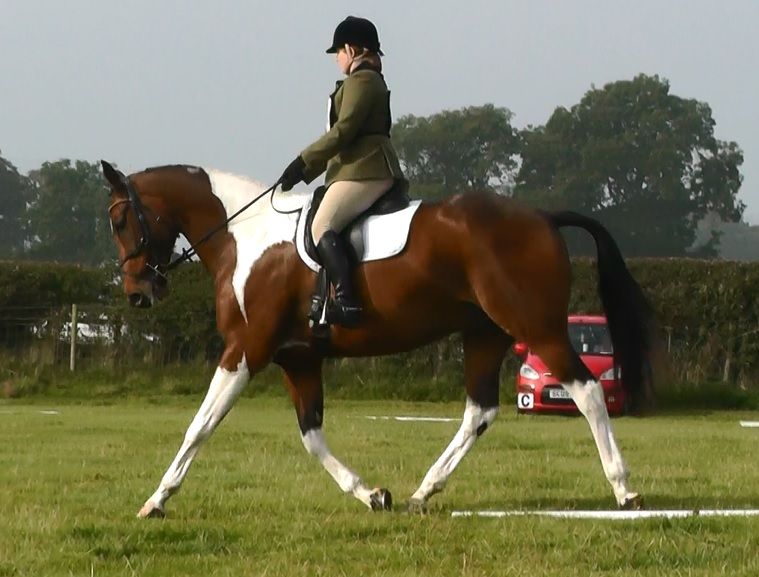 Then after a long wait we went showjumping, and the arena was undulating and small. I managed to under-ride the second fence, which was sideways on a slope, and the to compensate I over-rode the 3rd fence, which was downhill!! Had those 2 down, but the rest of the round was really good so my fault entirely for the poles down. But looking on the positives, I didn't mess up after fence 3
No pics sorry, or video, as dad was too nervous to video
I watched a friend SJ and then we both walked back together to our trailers (parked beside each other) and both relaxed and I was riding on a loose rein with both feet out of the stirrups. So to get back to the trailers you have to walk through other lorries, common enough at most events and there were horses being held/tacked up etc. at the back of lorries (which faced us). So as we were walking by them, one of the horses lunged at billy teeth bared and ears flat back!!
Billy was very shocked by this and spun on his hind legs and reared up to get away from the horse – should I remind you at this point I still had no stirrups and basically no rein contact?!
When I say he went up he really went up – all I could do was cling on for dear life with my legs and lean forward as much as possible!! He came down and then went to gallop off but I had my knitting gathered by this stage so was able to prevent this! Friend was a bit shocked at how high he went – anything feels high when you are already sitting on a tall horse lol.
Billy being Billy then walked off as calm as ever, happily on a loose rein again although I did keep my feet in the stirrups this time
Following our little (!) dramatics, it was onto the xc, which was a lovely big old fashioned gallop course. Billy felt a little tired warming up which I think was because of the heat, as he definitely wasn't tired during the xc
Out of the start box and he jumped the first fence (a rolltop) nicely, then over a biggish table for no.2 followed by a flower box log and a trunk. Short gallop across the top of the next field then 90 degree turn left over a biggish log where you had the option of jumping the next stone wall/log on an angle or straight if you turned after the biggest log – I originally planned on turning after the biggish log but when we landed we were at a great place to jump the stone wall/log on the angle so we just kept going and popped the fence without even thinking about it
Pro pic:
http://www.sportingimagesni.co.uk/m...anmore_Red_flag&id=DSC_2456.jpg&pg=1&count=41
I'm going to tie my lower leg to the girth. I can't believe how far back my leg is!! Lots of no stirrup work for me!!
Then flew down the hill and into the next field, where we jumped a rolltop and then out over a double of logs into the next, where we had gallop across to the hanging log on a steep down slope, which had a new mim (?) pin which is like a frangible pin, then galloped across to the brush which he just flew, then more galloping
D) across to a corner then a log pile, and I don't think Billy actually noticed that the corner was a corner!
Then into the next field to the water jump, down the steps through the water, jumped up steps and then up a mound over a log. I'm really pleased with the water, even though he has jumped bigger & trickier jumps into, through and out of water we kept the canter the entire way and didn't change rhythm or loose impulsion which I have struggled with in the past.
After the water another gallop across the field and into a small forest type area, where he jumped an open ditch brush and then down a drawbridge drop over another ditch, out over a palisade and over a roller to finish!
Very pleased with Bill, he made it all feel very easy and we finished 25 sec under the time!! So we both finished with a big grin on our faces and even managed to bag a rosette, as we came 6th!
So a very happy only_me and I think an even happier Billy as he got to really open up and properly gallop today plus jumping!!
Thanks for reading, can offer you some minstrels?
Also apologies for lack of photos!