Joined

14 September 2011
Messages

448
Location
Hi everyone! Finally have some time to actually sort my pictures out after a chaos month, thought it would be great to share my experience with you.
Since the beginning of February, I've been working as a showgroom for Madeleine Witte-Vrees, one of Holland's best GP dressage riders. Also owner and rider of multiple famous breeding stallions (Charmeur, Wynton etc.). Here my job is basically, taking care of the three main horses which are all GP level. These are Cennin, Charmeur and Wynton. Completely in love with this job! Cennin is adorable, even though he is a breeding stallion too, he is amazingly sweet and calm. Charmeur and Wynton.... they are the stereotype breeding stallion, haha!
Anyway, since then, I've been travelling a fair bit. In my first week, I travelled to Neumunster, for a FEI World Cup Qualifier. They threw me in the deep! I did not mind at all, had a ball! Considering Cennin just started competing GP level last year, Neumunster was a huge success!
They came 2nd in the Grand Prix!! Behind Isabel Werth and infront of Helen Langehanenberg! Amazing!! To top it off, they were third in the Freestyle, even with three big mistakes! Think it's safe to say, my first week was a huuuuuge success!
The Neumunster arena, amazing atmosphere
In the prizegiving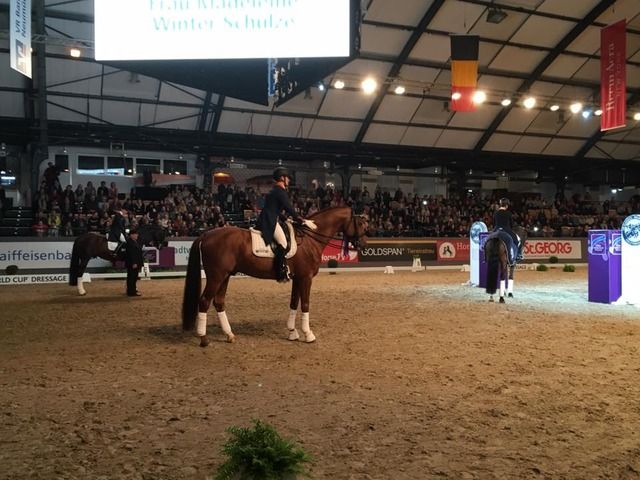 So after this, it was the countdown to Omaha. Madeleine gained enough points towards the final, only the best 18 were allowed to compete, she was is in the top 10. Unfortunately, I was not allowed on the horse flight with Cennin, only a few grooms and vets were allowed on the plane. So I did a long trip from Amsterdam to Detroit, Detroit to Omaha.
On arrival I was greeted by an official from the organisation. I have never seen someone so excited to meet "just" a groom... haha! The people from Omaha were very welcoming, all so happy that we flew from far to the "middle of nowhere". I honestly think they were excited to meet people from "Europe". I had to explain to some that Dutch people don't actually wear clogs for everyday use. Cracked me up a few times when they asked the stereotype questions!
I arrived a day before Cennin, so I could set his stable up in quarantine and await his arrival. On the Saturday, it was arrival day! All the grooms of the showjumpers and dressagers were transported in horse trucks (not kidding, a herd of grooms) to meet the horses at the airport. The horses were supposed to arrive at 10:30 local time, but were delayed slightly in Amsterdam, so they didn't arrive till 11. We all watched the plane land, which was the smoothest landing I have ever seen! I wish they landed my aircraft like that.....
Once the plane was in it's position, we were allowed to board the plane. The horses were soon unloading and loaded into the trucks, they weren't allowed to touch the ground, cause of the quarantine rules, so the trucks were lined up next to each other and they had connected them with ramps, very cool system!
In the container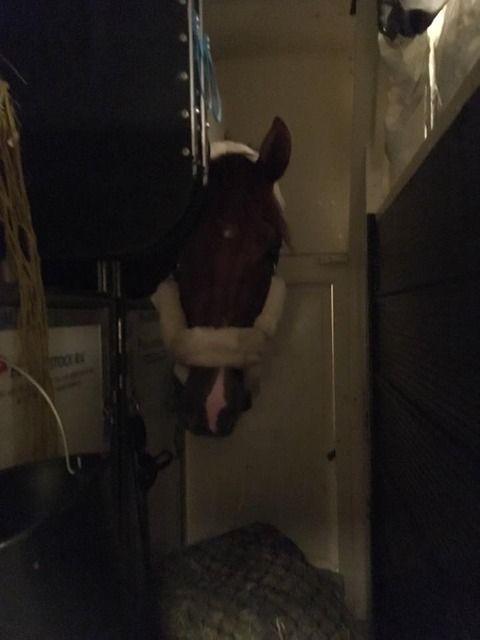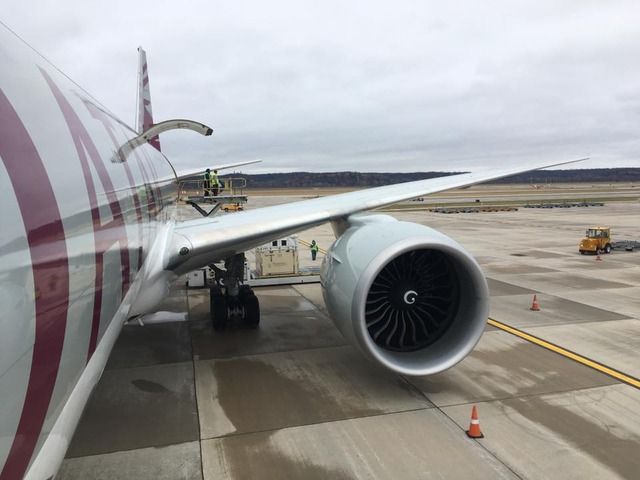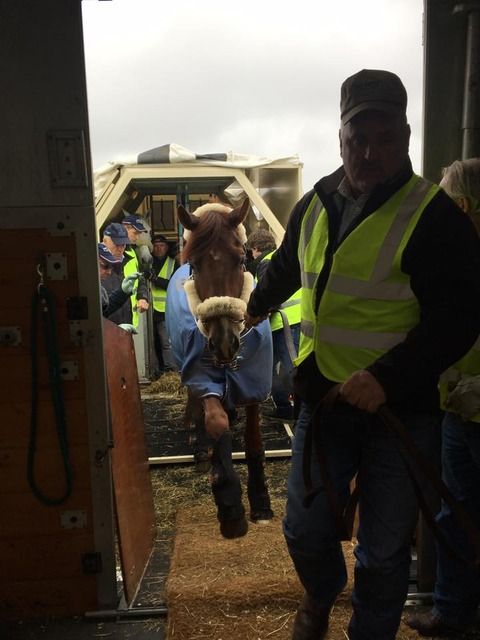 The horses had to stay in quarantine for at least 36 hours. Quarantine was to be lifted on Monday at 8, but unfortunately, one horses tested positive to something (can't remember what!) through a blood test that was taking upon quarantine arrival. They redid the test and quarantine was finally lifted at 2 pm, as the result of the blood test was negative, as it was in Europe. Americans just love to make drama.....
The Vet Check was on the Wednesday, which all went well and all horses passed easily.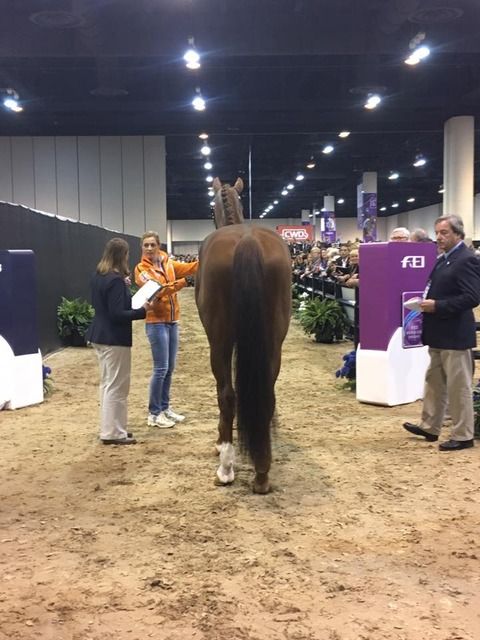 Earlier that day, all competitors were allowed to familiarise in the main arena.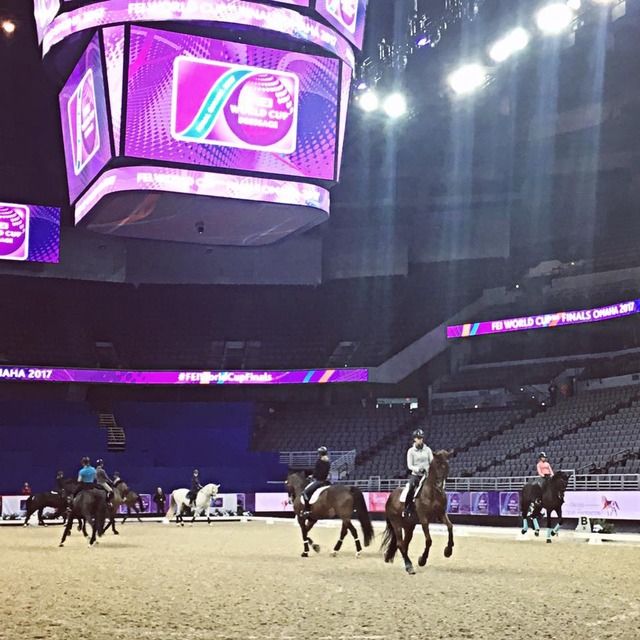 Thursday was the big Grand Prix day. Riders were wandering the stables from an early time. If you think professionals don't get nervous... think twice. Edward Gal's Voice was in the same stable row as us and 2 hours before warming-up, he was in this "zone" and his expression was more like he couldn't breathe!
The warm-up arena is better to watch than the tests, so much going on! Carl Hester, Isabel Werth, Laura Graves, Judy Reynolds, Edward Gall.... all the big names in one arena! Wow! My pretty little stallion stood out in the crowd, but I'm biased.... He was pretty sharp in the warm-up and Madeleine felt confident.
As they entered the arena, the warmth got to him and he lost a bit of his sharpness. They still turned out a very good test and managed to score 73%! They ended up 6th overall, which is an amazing result for a 10 year old!!
Together with Edward Gal and Glock's Voice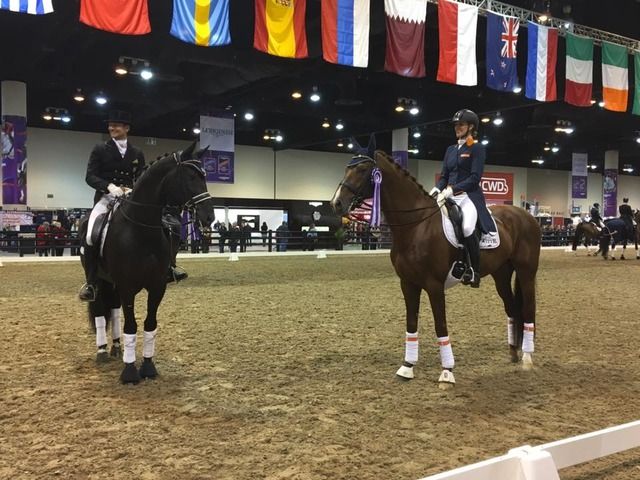 Friday was a day off, so I managed to fit in some show jumping spectating, what an atmosphere!!!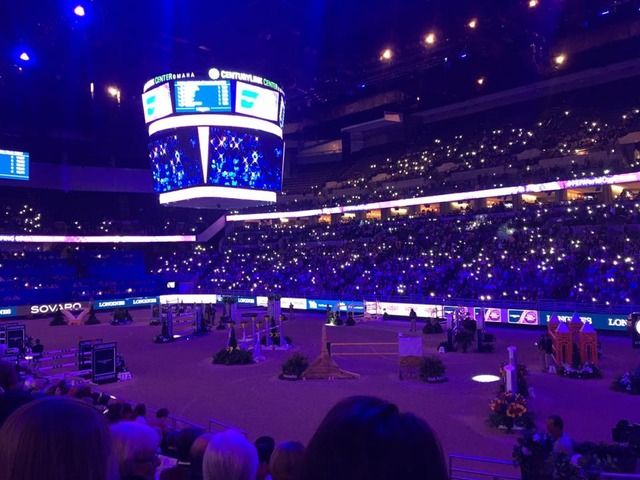 Cennin later that day, managed to cover his head in mash.... took me forever to get that clean!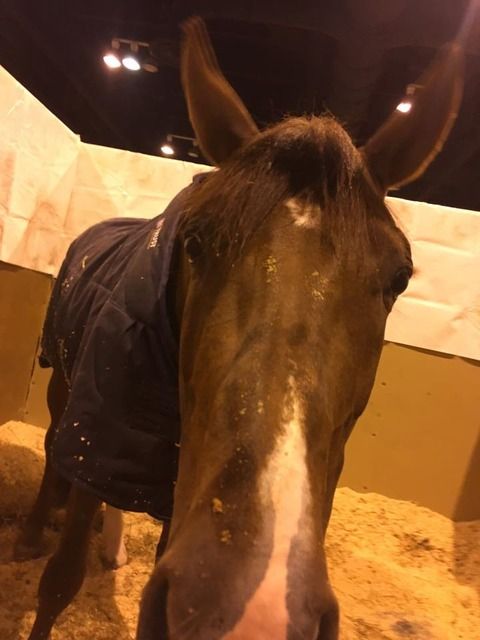 Saturday was the most important day.... the Freestyle. Madeleine planned on giving it her all and taking risks. After a short warm-up, they entered the arena. From that moment on.... it was all a blur to me. I have never been so nervous in my entire life! They came in, did a halt and salute, off in extended trot towards H.... and Cennin saw the huge crowd and went "NOPE!!!" and did a great sliding stop, they could of given an 8 for adding a new movement there. Madeleine quickly got his attention back and they NAILED the rest of the test!!! With a whopping 79.046%!!!!! they came 5th.... infront of Edward Gal! Ha! Who would of though that! And if they'd not of had that mistake in the beginning... I think they would of had a nice 80% score.
My plaits.... it's a form of art!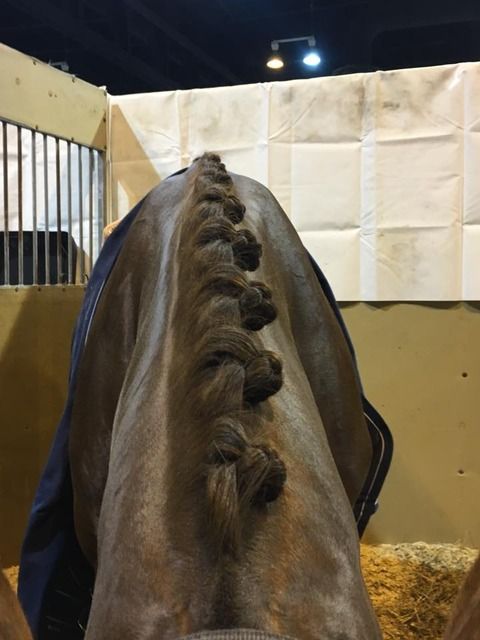 He had Sunday off, in the hand walking arena, they had a tv replaying everything. Cennin was fascinated! Here he's watching Isabel Werth and Weihegold..... watch and learn Cennin.... watch and learn!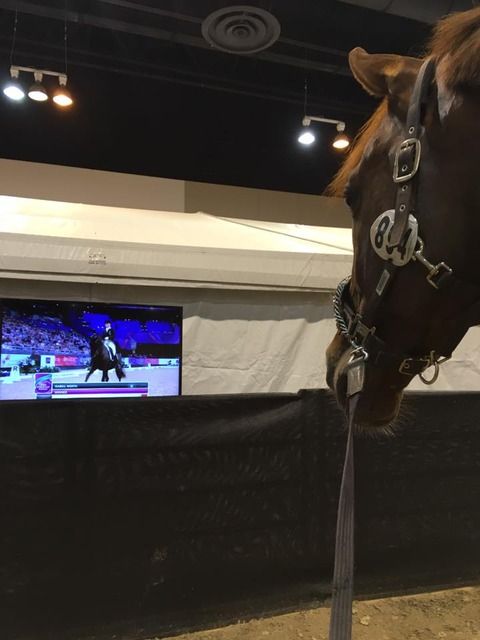 So so so proud of Cennin! Only 10 years old and already in the top 10 of the world! And almost scoring 80%! Onwards and upwards for this pretty chap!
This is the charming Charmeur! He loves his bathes! He is such a joker.... supposed to be 10 years old, be acts like a 2 year old!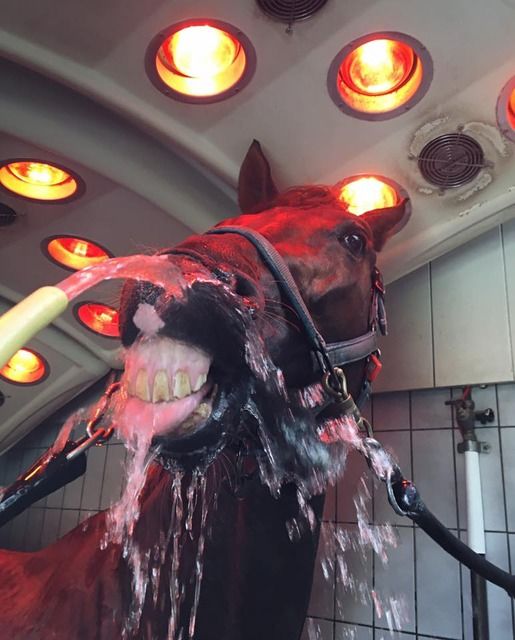 Little update of my girls as well! Pocket rocket Elena is as usual, amazing. Competition coming up soon! Will try and post a vid sometime, her trot is to die for! She has gained a lot of strength in her hindleg and the power in her trot is amazing, for such a small thing.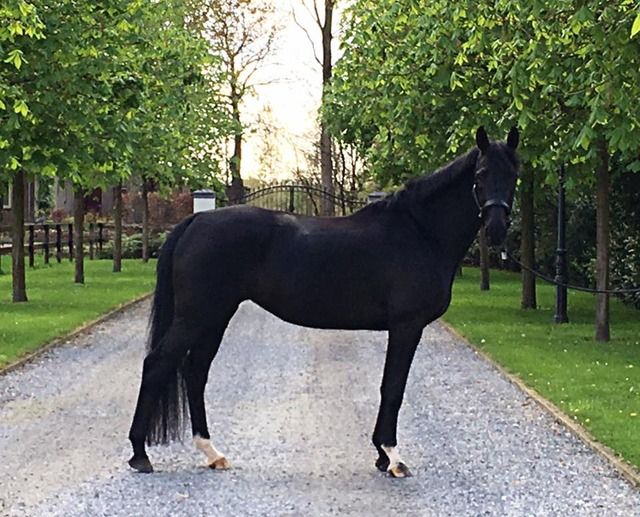 And Breitlingh is slowly but surely getting back into competition shape. She loves the racetrack we have!