Joined

9 March 2011
Messages

5,573
A few if you wanted to see some photos to my follow up thread of "can you spot fake rolled work"
The first photo if of a dog collar, it's a massed produced and is rolled but not made or used properly in the fact that you can see the stitches still, it's been made by a sewing machine. Not used properly in the fact that the stitches should face towards the animal it's used on, unlike in the photo. The idea is to turn the edges of the leather back over the stitches so you can't see them, it stops them wearing through or rubbing the animal's coat or skin when worn and is the correct way to make and use ROLLED WORK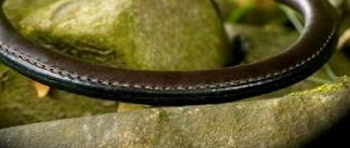 [/URL]
This second photo below is a driving bridle throat, I made it by hand and the little ridges you can just see are where the stitching is under the leather. We put the edges of the leather in a rolling block and gently work it in to this shape, the stitches last so much longer, won't rub the animal and this is the correct way to make ROLLED WORK. The customer would be presented with the good smooth side facing out,with no stitches showing or facing them.
When this throat was new, the leather would have been much further down over the stitches to hide the thread more than it is today but this bridle IS 27 years old!
Traditional saddlery is all about safety and presentation, some techniques were developed 200 years ago or more when horses were the main mode of transport. Infact in Victorian times brown Saddlers (term given to men who made gentlemen's riding saddles and bridles) would have had to use white thread so the customer could check your quality of stitching and work made with stitches of up to 16 to the inch not uncommon.
Most bridles now use 8 to the inch and are machined.
How many of you insist on white threads, often 12 or more stitches to the inch and inspect the bridle before you decide to buy it?
Would you know hand stitching from machine stitching?
Food for thought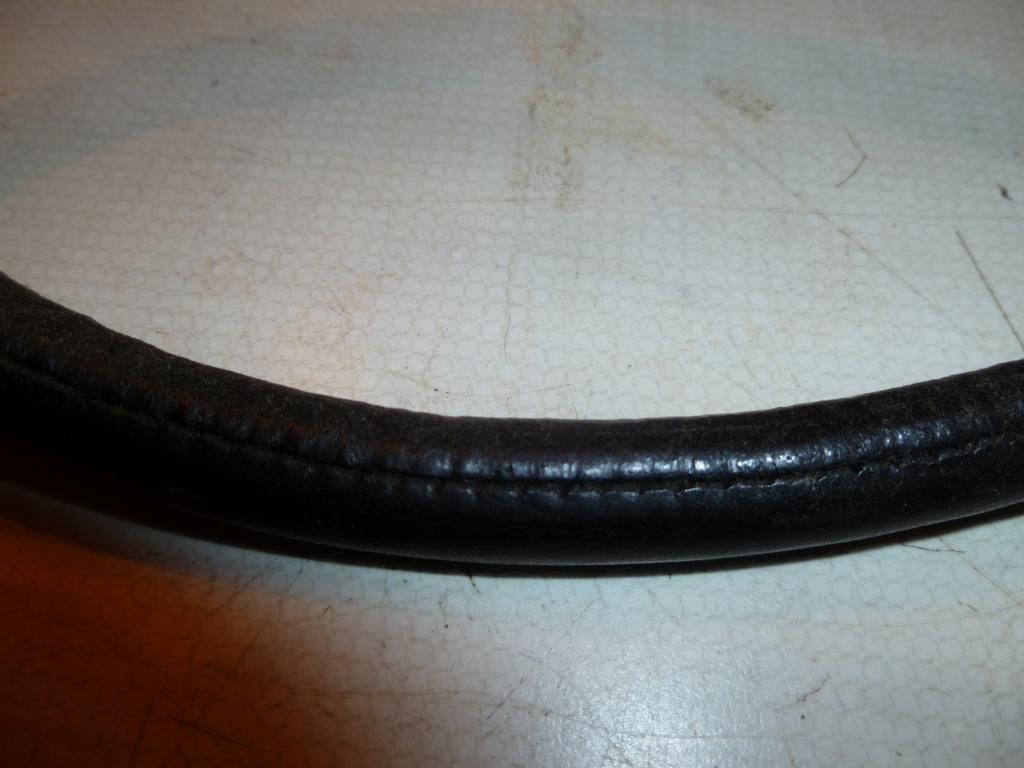 [/URL]
Lastly, the photo below is of ROUNDED LEATHER BELTING, people use it now for dog collars and leads, because mainly they don't know how to make real rolled work and it's quick, cheap and sells. It is not as strong as rolled work, will break before rolled work does and it tends to stretch where as rolled work doesn't if it's made well enough.I have seen it on bridles which is something I would not do or advise.
You can see the difference in thickness where it's stretched, look at the far left, then the far right, the right is near to the original thickness of when it was made.
It's a slip lead I made for my Lurcher, the main weak link is the binding and underneath are a few stitches but this method of securing a turn of leather round the fitting is not as strong as a turn on rolled work.
I mainly use this ROUND LEATHER BELTING for a belt to run my ancient treadle 45k Singer sewing machine when it's needed.
[/URL]
Oz
Last edited: