Joined

28 October 2005
Messages

4,680
Hi guys,
I know that I have been rubbish at keeping up to date with you all, I have no idea where the time goes!!
Pickle is now 17 weeks old and just gorgeous. She is a little monkey with a right temper if she doesn't get her own way
We seem to of almost past the chewing the doodah out of you stage but she is teething terribly. We got her a big bone from the butchers on Saturday and she loves it, its kept her quiet for hours!!
She is growing quickly but we are keeping an eye on her weight as she isn't eating anywhere near the amount she should be. I had to take her to the vets last Monday as she had a lump come up but it turned out to be a reaction to one of her rabies jabs. I weighted her then and I am sure she was 6.75kg, when I took her back today for her blood test she weighed 6.6kg so we will wander over there some time next week and just weigh her again to keep an eye on it. She doesn't look skinny though so I am not overly worried.
We started Puppy Training classes last week and she was so good, her over boisterous behaviour also seems to of passed and she played really nicely, outrunning all of the other pups!! Recall is getting there, its not perfect but it was good enough to let her off the lead when we took her to the woods on Sunday, she was pretty good, we only had to go and get her a couple of times! While there she made friends with a 5 month old White Alsation who used her as a rolling ball!! he kept knocking her over and rolling her in the mud!! resulting in her looking like this!!
She was shattered when we got back to the car and we had kept the walk fairly short (20 mins or so) and very very muddy!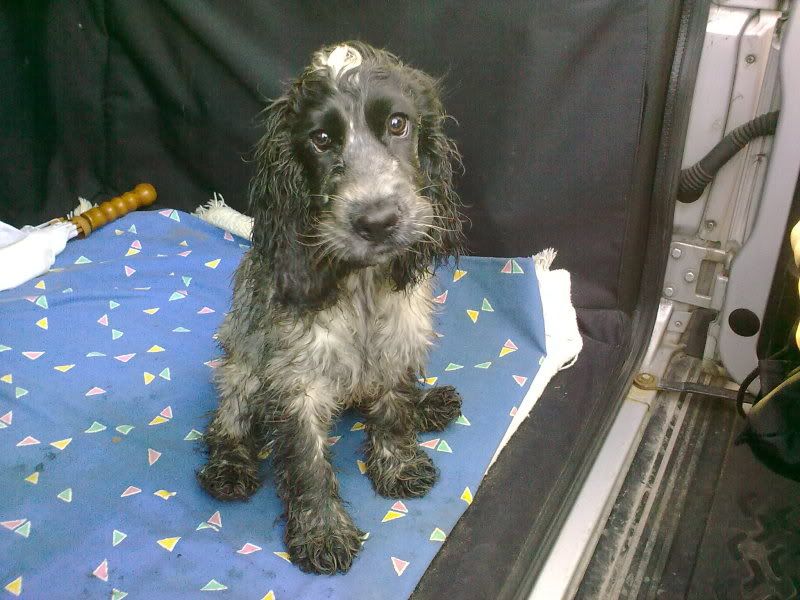 She was far from happy when we put her in the bath when we got back, the bathroom looked like a mud masacre by the time hubby had finished!! Pickle is still most definitely a Daddy's girl, she adores him and follows him everywhere. She is still going to work with Simon 2/3 days a week and is at home with me the others. Pickle has outgrown her booster seat already.....and eaten half of it!! So hubby has adapted a new one for her with lots of ratchet straps to secure the bed to the seat and also to make sure her seatbelt still fits properly
Well I hope that I havn't bored you too much with Pickle pics but you were all so great while we were waiting to get her I thought you would like to see how she is growing up