Joined

28 October 2005
Messages

4,680
Where has the time gone?!! Pickle has been with us for almost 3 weeks now and has settled in so well, a few ups and downs but we just love her to bits
I did a whole big post the other night but my laptop froze and I lost it all so I'm trying again tonight!!
After a few very rough nights with her crate she has now settled very well and goes down perfectly every night. We didn't need to take a crate upstairs either which is great. We did get a DAP plug in that Cayla and a few other peeps recommended, whether it was a coinsidence or not I don't know but since the first night of that she has been as good as gold
Her toilet training has been going really well, she asks to go out for a poo and she hasn't wee'd in the house for a week now. She absolutley adores her Daddy and follows him everywhere, mind you Daddy adores her too!! She has been going to work with him and has been an angel. Hubby is a courier and she has several admirers on his route and plenty of 'treat' stops! They are pretty pooped when they get home though
The only real issue we had had is biting and blimey she can bite hard!! Poor hubbys hands and arms are shredded. We tried the yelping, crying and everything else we could think of but it wasn't working and it really was getting very bad during play time. Hubby got a Pet Correct at the weekend and I have it say it was done the trick, we have only had to use it a handful of times and she now listens. So much better than shouting or even worse smacking her. Another recommendation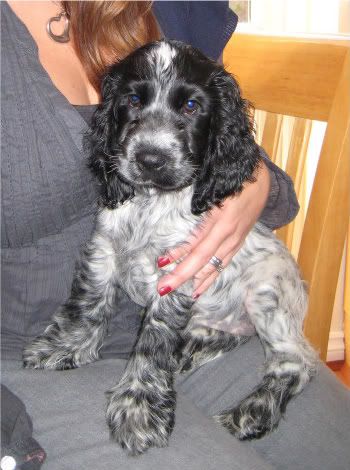 Pickle has grown so much its amazing, we are going to get some more pics at the weekend. We are both off work for a few days as I've had an op (well I don't go back til after New Year
) so plenty of time to get some pics where she is not asleep!!
She is at the vets on Saturday for her 2nd jab and then from Christmas Day she can go for walks, just can't wait for that
I'll post more pics up at the weekend, oh and she barked for the first time last weekend!! hilarious, if anyone is one facebook you may be able to see this
http://www.facebook.com/nikola.penny?cropsuccess#!/video/video.php?v=1748184422262
Last edited: