One of our local riding clubs organises a Chinese Auction every year to raise money for the Midland Air Ambulance. This year we raised £3,040 on the evening for this worthwhile charity.
One of the star prizes (£10 per ticket) was a lesson with Lee Pearson, who is an ambassador for the Air Ambulance, and guess who won it, bounces around the room excitedly
Well Saturday was the day so off we trundled with a keen Pidge on board, along with my sister and friend.
Well first impressions of Lee were that he is tiny in height to what I had imagined, but by god he makes up for that in his personality. Gave him a few details of the keen ginger beastie, warmed up and off we started.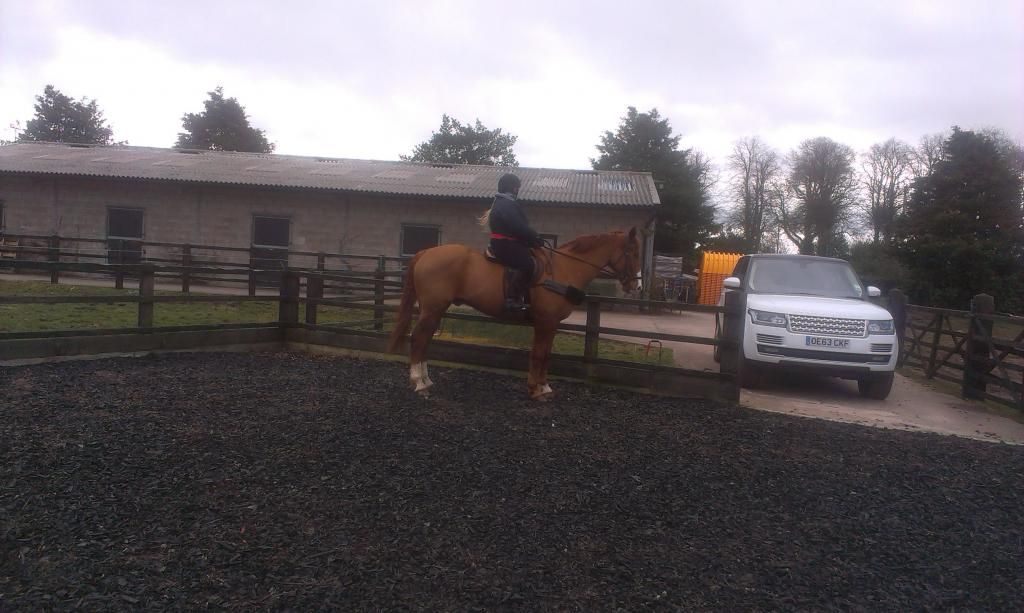 Gus walked behind the mirrors at the top of the school and then came to say hello in the top corner, thank god Pidge is a sensible Irish boy
We worked on me sitting up, which is a bad habit I've let slip as just played really these last 3 years and had some fun rather than any serious schooling and I can count on one hand the number of dressage lessons I've had in that time!
Pidge was rather keen to put it mildly which was good as when he gets a bit yeah haa my position gets even worse, so plenty to work on
.
The one key element we worked on bar me was getting Pidge to accept the leg and hand, and this principle is key throughout everything even at the much higher levels.
I have to admit that I had the best right canter I've ever had on the flat and thoroughly enjoyed my lesson, despite the rain, hail and lightning!
Stripped Pidge and popped him on the lorry and then watched Lee school Zion and then run through a dressage to music test with him. Wow that man is a serious inspiration as I don't think you can appreciate how disabled he is until you are right next to him and what he can get a horse to do dressage wise is well just inspirational.
We then got to meet the wonderful Gus who looks really well.
We then had the pleasure of going to Lee's farm where Pidge was stabled in some very nice stables whilst we went for lunch and then came back to see Lee's farm and medals. I have to admit after even a short time with Lee you forget his disabilities and just enjoy his funny and witty company.
Had to wait for yet another hail storm to pass before loading Pidge and setting off for home.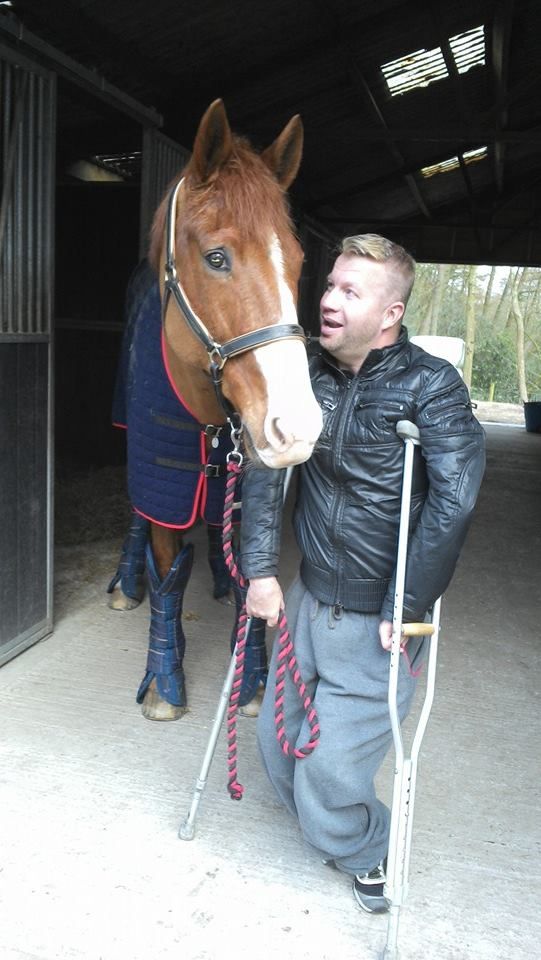 It was a very long day but my god has it inspired me to get off my butt and put some work into our flat work.
Apologies for the lack of photos but the weather was vile!
So a lesson report with a difference, I hope you enjoyed it?
P.S. If anyone can my pictures to show that would be great thanks