Joined

21 May 2002
Messages

17,831
Location
Yesterday I got back from a fantastic 4 days at camp, thoroughly enjoyable and we made such progress with our jumping, I am feeling so much more confident, and George loved it. I got some good tips on how to progress my schooling with him, although he doesn't want to be a dressage pony, he is going to have to learn to put up with it, so he can get the fun bits as well.
We had a quiet hack out on the first afternoon, then some acclimatisation to the indoor schools as last year they completely stressed George out, they are next-door to each other (it was at Plumpton College) and so you can hear things going on in the other arena but not really see. We also had the lovely Spillers lady with her weighbridge - since last year George has put on almost 100kilos despite staying the same body score, so his muscles are much more developed. In the evening after some hand-grazing we had a "guess the weights" quiz - horses not people :wink3: - which I won :cool3:
The next day I had a session on the mechanical horse, I find it harder to ride than a real horse! The instructor really got me to focus on not hollowing my back and using the muscles on the backs of my legs to support me, and developing a framework which will then help the horse to develop a more consistent outline. Oh and I really need to get back on the diet.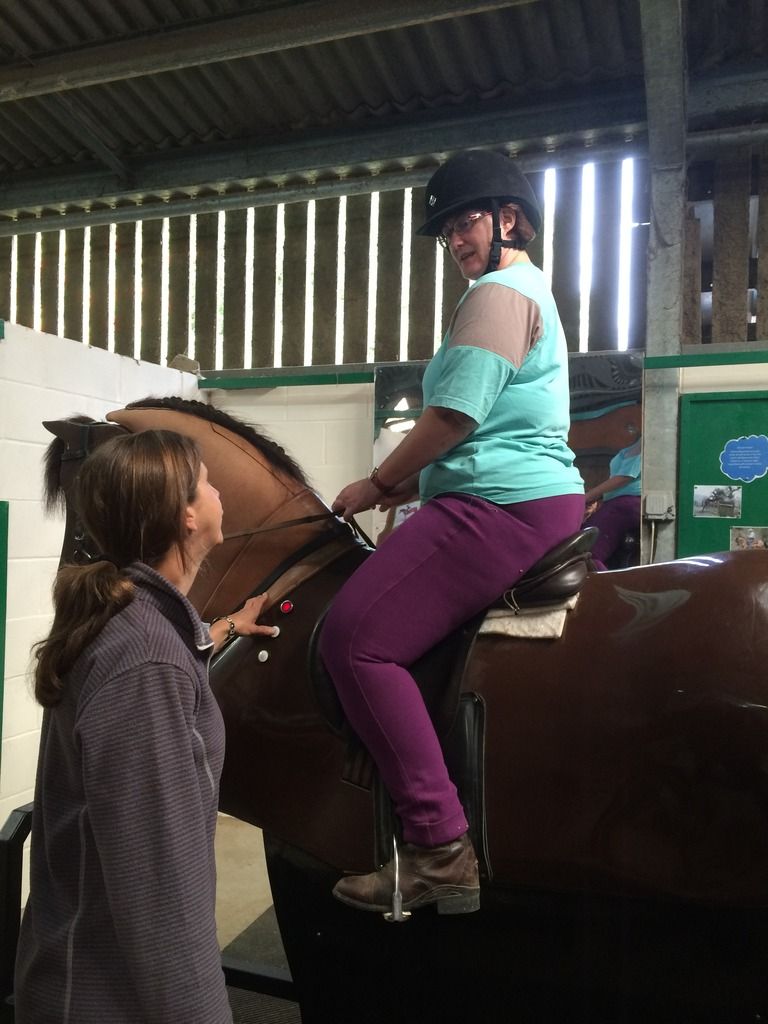 This was shortly followed by a polework lesson with the same instructor, and she really built on those focus points. The afternoon session was a musical ride which was great fun, and really hard work for both horses and riders, I was surprised at how much collection and extension we had to employ to ensure we were level with our partners.
In the evening, there was a clear round in the outdoor arena, as it was raining I almost wimped out, but got persuaded to tack up and get down there! I did a round at about 60cm no problems, then they put it up to about 75cm and G had a tantrum in the bottom corner of the school. My jumping confidence has been hanging on by a thread so the jump was lowered for me, we popped over it and I retired as I wanted to save my confidence for the next day.
My schedule for the next day started off with a XC lesson - this is the first time I have tried XC with George - he's pretty experienced, but I haven't jumped a solid fence for probably 6 years so was a bit nervous, especially as it had been raining overnight and I didn't have stud holes. The instructor took it really slowly with us though, and we jumped everything uphill as a couple of others had slipped a bit earlier - and George was super! Once I was brave enough to really push his canter forward and ride it, we just flew everything I pointed him at, and I managed to go with him - my big problem is being left behind as I tend to freeze and stand upright, but I've been working very hard on folding forwards and pushing my hands up his neck.
The afternoon was a SJ lesson and I'd gained so much confidence from the XC in the morning that we flew it - again, only about 70-75cm course, but we finished off with me feeling that was easy, and it could easily have gone up a couple of holes.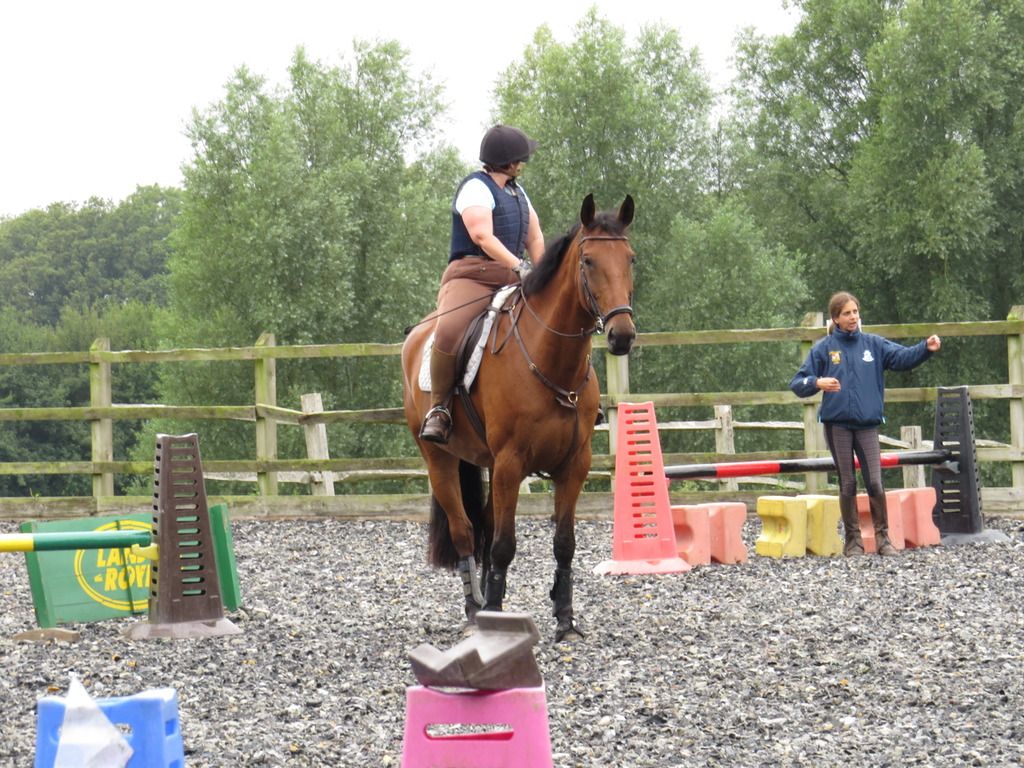 The evening was a dressage competition, and G was pretty well-behaved (for him!) and again I came out grinning.
The last full day started off with a Trec competion, and then was free for us to do what we wanted. Trec is such good fun, but the small ponies definitely have an advantage - the S-bend is pretty difficult on a 17.2hh! After this, we headed back to the XC as I'd had my eye on a couple of fences that I just hadn't quite had the courage to do in the lesson - and we flew them - in fact we did them twice!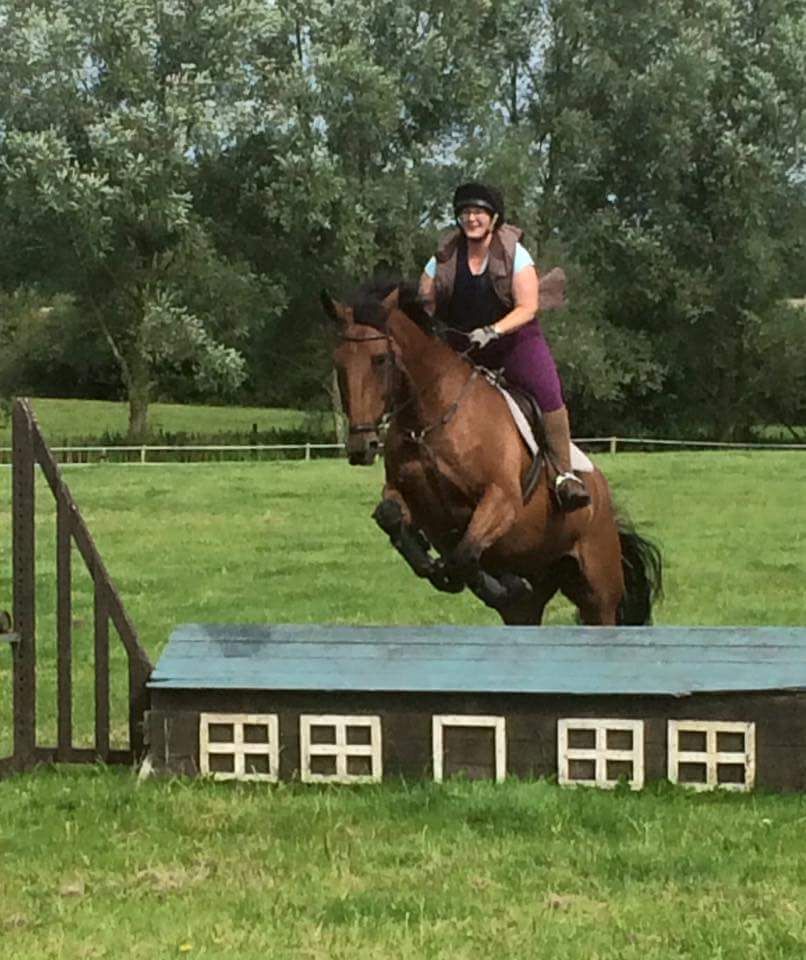 Then I headed up to the Downs with a friend for a hack - so the horses were shattered when we got back.
Our last morning dawned with the most glorious sunshine and was feeling hot hot hot. First up we did a bit of "swapsies" and I managed to get a lovely rider to give George some schooling, while I rode her AM dressage horse. Well, I say "rode", I just about managed to sit on her but that was about it
She's given me some exercises to work on with him, to try to make him more supple and softer into a true contact.
Then we headed back to the XC for one last hurrah - I'd challenged myself to another jump, but as it was, George was really tired so I got the telegraph poles under my belt and called it a day.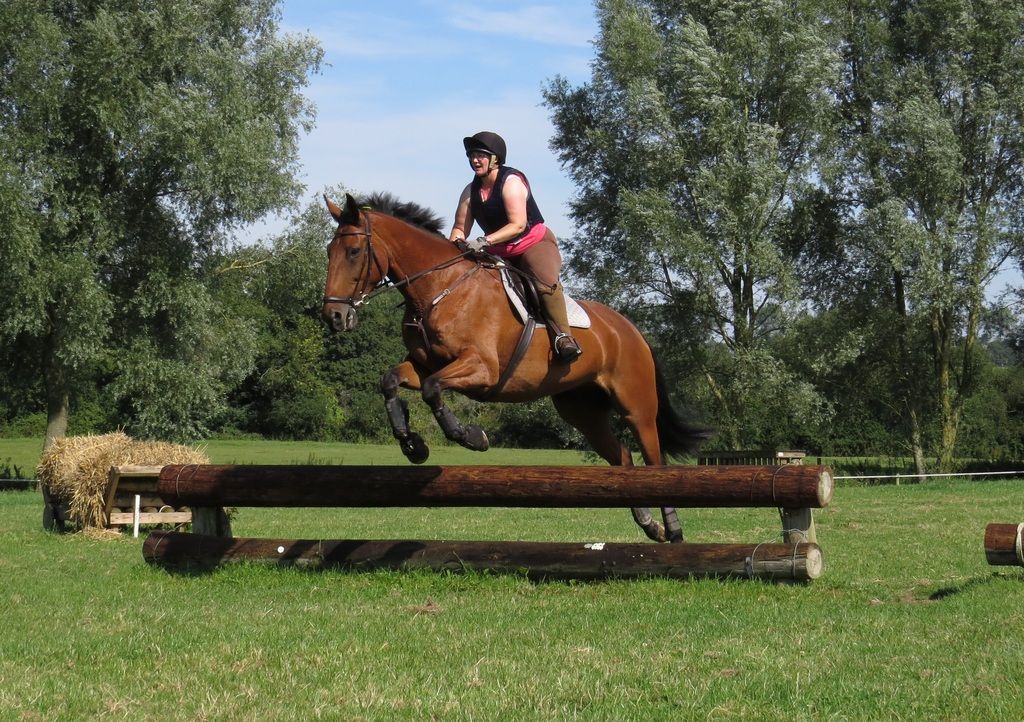 Had an awful journey home due to the terrible airshow accident, but if I'd left 15-20 mins earlier, we might not have made it home, so we can count our blessings.