Joined

11 October 2006
Messages

8,349
Location
New girl went to her first show yesterday. Local agricultural show so lots going on.
Hacked there as only about 4 miles away.
She was a bit on her toes when we arrived. Warm up for SJ was tiny and as we entered a horse managed to crash through the practice fence followed by lots of shouting from rider which didn't help settle my girl to say the least.
Decided the warm up was a bad idea so as we had already hacked there took her in to clear round to warm up. Turned out to be a wise decision as complete brakes and steering failure followed. Jumps also seemed to need 4 foot extra according to her. Straight round twice (only 7 fences) and seemed almost rideable on second round.
SJ ring was fairly small and full of very bright fences. Entered the 2'6". Course was well designed asking some questions using the terrain undulations but very fair.
Well not expecting much I was very surprised how much she was listening, keen but responsive.
Single phase but had decided just to go for a clear in nice rythm. Really impressed that we finished 6th without the slightest attempt at speed in jump off section of course.
Called it a day there as objective for the outing had been achieved
Vid
https://www.youtube.com/watch?v=L7JvmubbHi0
Round finished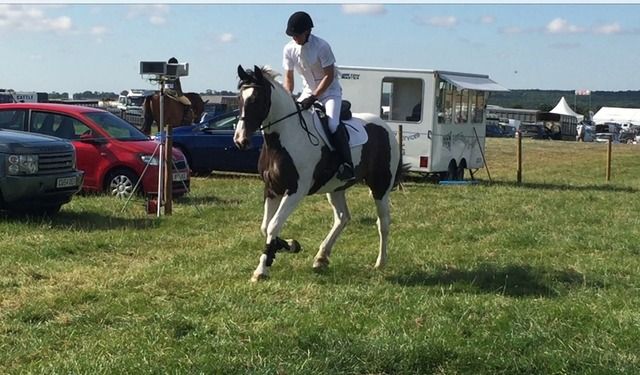 Getting her frilly