This is the mare. She is 15.3 registered pbw. Sire unknown.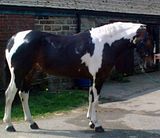 She has a fabulous temperament, is sound and a very good all-rounder. I'm breeding to keep and ideally wanting to replicate her but add some minor improvements!
I like coloureds but I'm struggling to find something short coupled, uphill with a good hind leg and strong back end. I like the look of Sambertino and also Sir Cisco but I cant find much on him.
Any ideas?
Last edited: