Joined

3 February 2016
Messages

241
Following on from my last post
http://www.horseandhound.co.uk/forums/showthread.php?729661-Have-I-just-found-the-perfect-pony
I'm pleased to say I think he may actually be the elusive 'perfect' pony!!
We got him home last Friday and he settled in so well. We have two big Thoroughbred geldings, who after a brief 10 minute gallop about the field, seem to have accepted him with no fuss at all.
The next day we took my daughter out for a wander along the lane on him. His owners told us he hadn't done anything for pretty much a whole year, so we weren't expecting him to be perfect. I must say, he didn't put a foot wrong. I was in charge of pony, boyfriend walking beside to give our daughter a little more security incase of emergency. We only did about 15 minutes along the lane and back, we met cars, motorbikes, dogs and screaming children. For some reason on this exact day, our quiet country lane seemed very busy indeed!! Fluffy took it in his stride, no problems at all.
He seems to listen well to voice commands and is very responsive, no messing about, he stops and goes when told. The owners said he was fidgety, which was discussed in my last post. I must say after being told in no uncertain terms that he is going to stand still and that he's not just allowed to do what he wants while we are trying to groom, tack up etc, he was fine and stood like a rock. I think he maybe has had a little to much free rein in this area! Still needs some improvement, but we can work on that!
My daughter is away on a trip to Chester Zoo this week with my family, so I have been long-reining Fluffy in the evenings after work. I have just been walking him about all the places we are likely to be hacking. He is doing well and listening to me ,he even managed gates whilst I was tangled in a mass of ropes and stood no bother until I had sorted myself out! Naughty me, been a long time since I long-reined!!
He seems to be very aware of where he's putting his feet and can think for himself on rough ground. I took him along the river bank, which has a few rutty, sandy up & down parts and he managed without a fuss at all. We also passed a lady on her rather large horse who kicked up a right fuss and decided that it wanted to stay with the pony. The lady had a rough time trying to get her horse to walk on. Fluffy, however, just pricked his ears towards the horse as it faffed about and walked on by without any encouragement! Very pleased. The lady on her horse eventually got it to walk on as we got out of sight.
He is pinked skinned on his face, so we have been coating him in suncream, as he has a few scabby patches on his nose and below his eyes. I have ordered a UV mask for him, which should be here soon.
There is one thing that is slightly worrying me though. I cannot fault the pony so far, he has done everything asked and has a lovely attitude. I had a look in his mouth, as the bit the owners had supplied is far too thick as he has quite a large tongue. Upon this, I discovered he has an upper canine tooth on both sides that are just starting to poke through. Now, I'm no expert at all in horses teeth, but I thought that the canines came through at around age 4 or 5. Is this correct??
The owner still has his passport and is going to send it on once we are certain we want to keep him, so I haven't been able to double check it. He was advertised as being 9 years old and I'm slightly concerned that he may in fact be much younger than that. We are arranging for the dentist to come out as soon as he can, but as we are quite rural, he will only come when he has others to do in the area.
Apart from this one issue, I'm very pleased with him so far and my daughter loves him!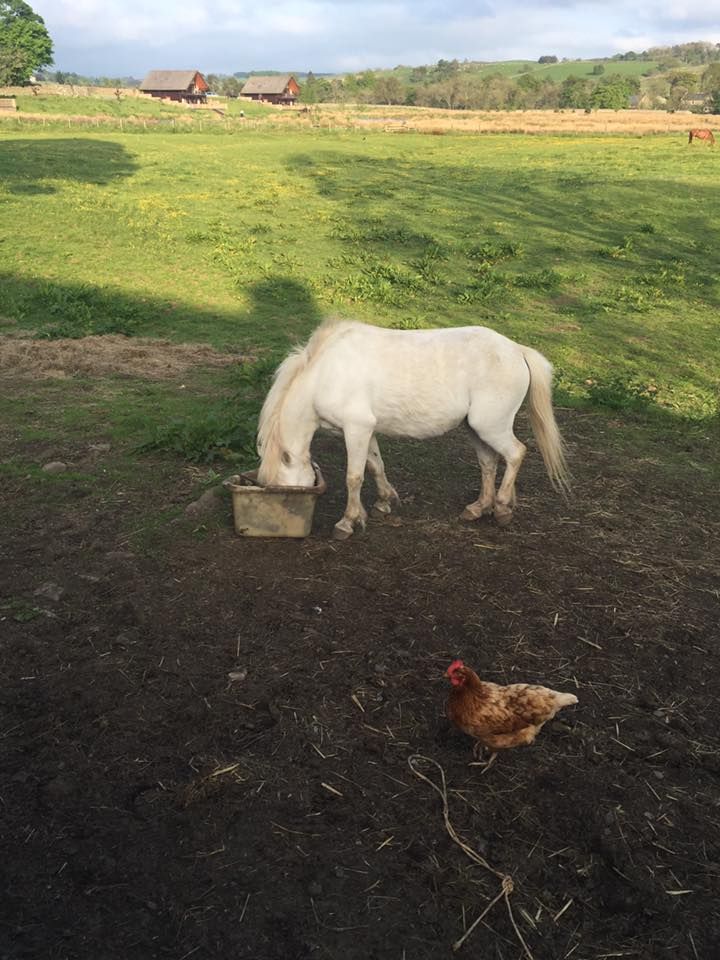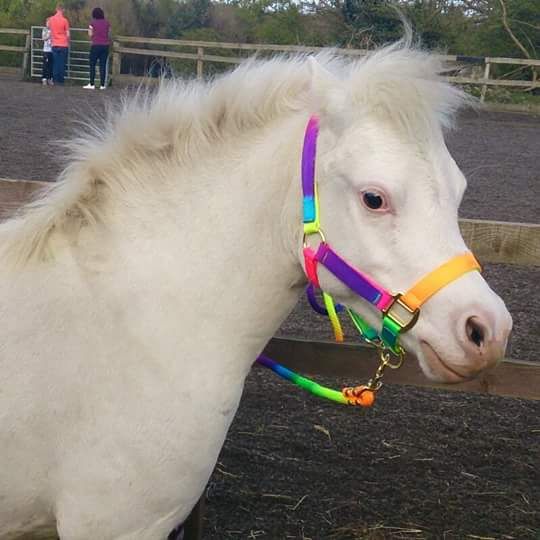 Last edited: