So Billy and I have been very quiet of late, he was away doing basic fittening work while I had exams and then is home and just back into schooling.
Had a lesson organised for today, first time with new dressage trainer who is very experienced and an excellent teacher! Went with the aim of getting feedback from the ground and the "where to go from here" point.
So bill, the bog pony (lives in a field!!) was pulled in, mud removed, legs and tail washed and then pulled. Still have a few touch ups to do to the tail but I'm pretty pleased with it
Before and after!!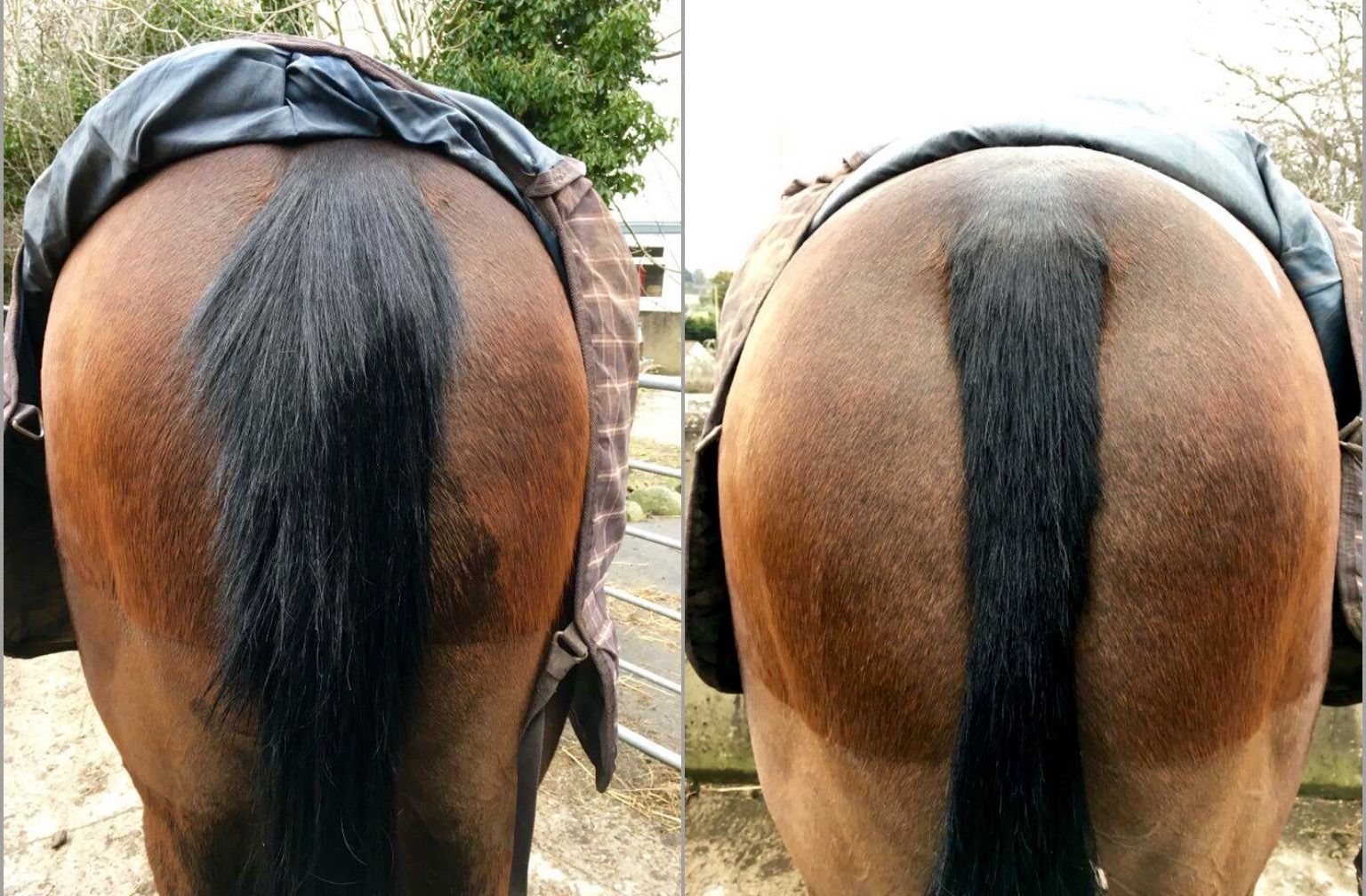 And sharing his food with the alpacas!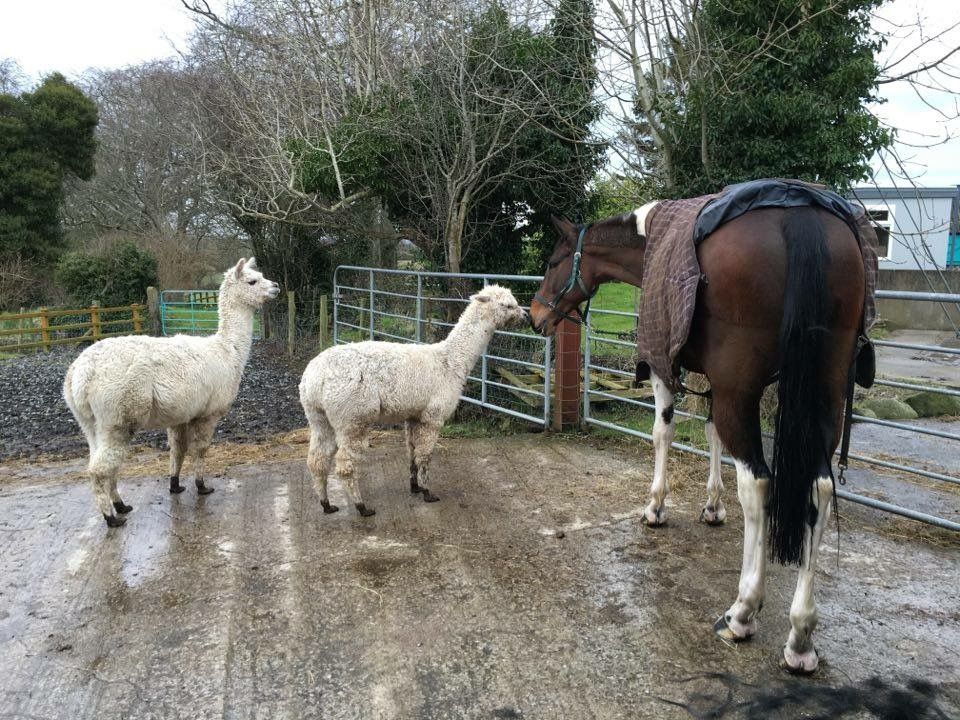 Then off to lesson. Lovely arena, with nice spooky mirrors - Billy was very surprised to see another horse who looks VERY like him...!
Soon settled down and worked Nicely into a long & deep outline, and trainer got me to bend & flex him while in that position which really softened the neck.
When we brought him up from that position he kept the nice softness and a "bounce" in the neck, which trainer was really pleased with and then I was able to get a truer contact.
Then we worked on engagement, or sparkle as she called it
started off with doing leg yield on a circle in walk & trot, and she explained aids very clearly which was a really good reminder before the movement. I never really knew that for lateral work your leg aid should be used at the point where the horses leg is off the ground, so that was great! Made me really think but had good results.
Then move onto increasing the engagement through seat collection, making him come back and collect purely from my seat while maintaining a light contact with hands. So trying to get the trot to a speed where he could almost be walking. He surprised the trainer, she was impressed! - he was really responsive to my seat which was great, but we need to work on getting the hind leg to bend "up" and the hind to come down ie. To connect the hocks to the hip. at the moment when I ask for a bit more behind he runs forward slightly, so although the hock is engaging it is not moving into the hip. Some homework to do!
Trainer is of opinion that if stay too long on one area then will sour horse & he will stop trying, so need to make sure vary the exercises done when schooling.
So after doing the above in walk/trot/canter we then started on a bit of shoulder in in trot and leg yield, then moved straight up into canter work.
There we did some travers, which I've never really done before, but she explained the aids really well so it made the actual movement easy. We struggled to maintain it the entire long side but again, more homework
Then a bit of shoulder in & renevers in canter.
From there did travers on the diagonal, which although we could get it we struggled to maintain it across the full diagonal. Some more homework for us! Great starting point, as trainer pointed out Billy gets a bit anxious when doing new things and wants to stay in his comfort zone. But when he does do something new, he listens very hard to my aids and is very responsive, so our first attempt at doing anything new is actually really good! When doing the new thing for the first time its almost as though he is holding his breath, waiting for a reaction from me to see if good or bad - once i say good boy or pat him it feels like he breathes out and his whole body relaxes. Odd feeling, but a lovely one to feel
Then back into some small collection work via seat in walk, which progressed to travers on a small circle until we were doing (v.large!!) pirouettes
but trainer wants us to stay large as she said what we were doing was the correct method of a pirouette, and as he strengthens the circle can get smaller.
couple of pics from lesson: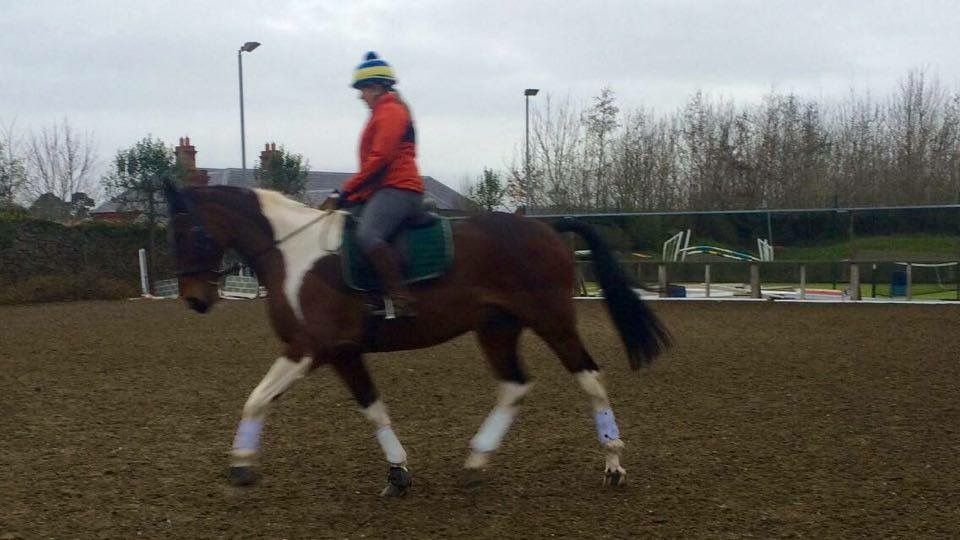 Please excuse my bad riding, it's been a while since I've done some proper schooling lol. And also i hope the pictures are fully showing, having a few problems trying to re-size them.
Really pleased with lesson, trainer was excellent and really positive - hopefully Bill and I will continue to progress so we can get back out competing! Great to have feedback and some new exercises to do at home, will spice up our schooling hugely
Thanks for reading!