Joined

31 July 2009
Messages

4,632
Location
Well , hope you're comfy, this could take some time :tongue3:
A couple of months ago after doing 3 BE90's, one of which was unaffiliated at Aston le Walls I decided that it would be a good idea to have a go at a 100. Why I thought this I do not know as I was terrified of jumping any SJ course over 90cm :confused3: Had a chat with Nick and he thought that we'd more than capable of doing both BCA and Little Downham and that it would be good to do both as they are close together and at the end of the season, giving us plenty of time to get lots of practice in.
Fast forward to a few weeks ago and a local venue (BE venue) were holding an unaffiliated xc with a 3ft - 3ft 3 course. For some reason I just don't like this venue. Don't know why as owners are lovely, course is good, just one of those things. Turned up and the practice fence was a pair of plastic jump blocks with a couple of rustic poles :eek3: People were jumping from all directions and it was carnage. I was then called to the start but they then let two people go before me :mad3:
Got to fence 9, an innocent looking hedge, J stopped and I fell off. Stood there like a scarecrow waiting my point2 to go down a bit, got back on, represented and she stopped again ! I pulled over as I saw the next competitor approaching. Only at that point did the fence judge wind down their window to see if I was retiring :mad3:
So that didn't go to plan so onto plan B - only I didn't have one at that point other than lots of swearing :redface3:
Whilst looking at the photographers website a few days later I noticed they had taken the pics at BCA1 so had a nosy and saw a trakehner. Cue panic phonecall to J's owner saying we need to get to Waresley asap as I knew they have quite a few.
This was our first attempt. :eek3: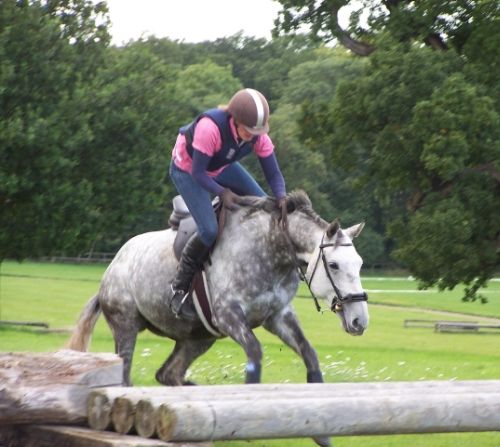 [/URL]
Second attempt I rode up to it screaming "I am Andrew Nicholson" :biggrin3: It seemed to work as we jumped it fine and then onto the slightly (very slightly) bigger one.
[/URL]
Then pootled around jumping a few skinnies, in and out the water.
This is the best pic of the day imo :smile3:
[/URL]
So that took care of the xc - hopefully.....
Keysoe were holding evening Dressage last Wednesday with a PYO class and BE106 was one of the options so again off we toddled.
Went in and scored 69.5% - Dressage score not BE score and won the class.......Out of two :biggrin3:
very pleased with the score though. We also did N27 and came second but there was about 7 in this class.
Keysoe yet again on Sunday for SJ as wanted to do the 95cm and the 105. We did the 95cm and ended up 3rd :biggrin3: biggrin3: Decided not to do the 105, I'd rather come away wishing I'd entered rather than wishing I hadn't. So here's our haul from last week.
[/URL]
So as prepped as much as we possibly could. Monday night I didn't sleep much, I was terrified. A certain part of my anatomy was twitching like a bunny rabbits nose on speed and when that stopped, my internal organs chased each other around at 90mph.
Got to BCA, did my Dressage and totally forgot to use my legs until about the fourth movement. Ended up with 34.5 which was very generous. We were both thinking 40 if we were lucky.
Couldn't walk the SJ as times were to tight for walking the XC but watched a few in the 90 and course looked ok. This worked in my favour as I couldn't see how big they were. Biggest course I've jumped in a competition environment. Unlucky pole down at 5 but I rode like a knob into the last and had it down - 100% my fault :mad3:
Video here
http://youtu.be/AqoK0NnINfI
Onto the XC, Lovely course. Lots of nice rounded logs and nothing to technical. The trakehner terrified the life out of me - I'll be totally honest :redface3: and knew I had to ride it like a banshee but not fall off and into it. Well I'm sure you guessed by the title, Jasmine was the best ever horse in the world and only went bloody clear :biggrin3: We had 20.4 time faults but getting the time wasn't even in the game plan. It didn't help that I went the wrong side of the string after the trakehner but I was to busy trying not to cry. I'm just gutted it wasn't the photo fence as she cleared it by a good couple of feet.
Here's the hatcam - best watched with the sound off as I sound like a fish wife. Can't stop cringing and laughing at the rubbish I spout as I'm going along :redface3:
http://youtu.be/rp_SNDIJ4fQ
Off to Little Downham on Sunday, hopefully we'll have a good a time as yesterday :smile3:
Last edited: